Having any missing teeth can be an extremely embarrassing and uncomfortable situation for anyone. However, there's a difference between having a single tooth missing as opposed to having lost many teeth. Not only are you likely to feel insecure when smiling, but it can also be very difficult to simply chew. If you are considering dental implants and have multiple missing teeth, then the All-on-4 treatment may be the right option for you.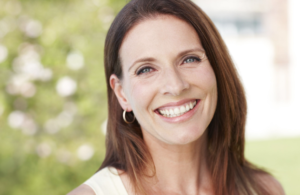 If you are interested in replacing entire sets of missing teeth in just one surgery, the All-on-4 treatment can accomplish this. Also, if you don't want to deal with loose, poorly-fitting dentures, this treatment ensures that the titanium posts lock your new teeth in place. There is no adhesive used or needed in this procedure and the implants stimulate bone growth. Eventually, the titanium posts fuse into the living bone that already exists and function as a part of it. Additionally, the procedure restores full sets of teeth with just 4 to 6 implants instead of having to replace each tooth individually. This makes the All-on-4 treatment more cost effective. The All-on-4 treatment can last a lifetime with proper care, and the process is very similar to taking care of your own natural teeth.
This procedure is dependent upon patients having sufficient bone available in order to retain the implants in place. If there is not enough bone available, the implants will not be secure or healthy long term. This will be determined ahead of time using cutting edge 3-dimensional imaging here in our office to ensure your outcome is predictable.
Every case is different and fortunately for you, there are several full-arch restorative options available. Choosing the correct treatment plan can be difficult and intimidating, but it doesn't have to be with our guidance. At Desert Oral Surgery, we can recommend specific treatment plans that will cater to your individual needs. Ultimately, we want you to feel confident showing off those pearly whites so don't hesitate to schedule a consultation for more information. A beautiful smile is just a call away!